I love loose powders! \=D/ And now, I'd like to review my new loose powder from NARS (*≧▽≦)♪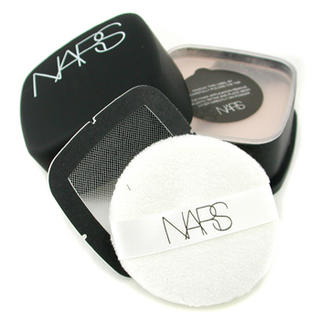 NARS loose powder has a bunch of positive reviews, so I decided to bought it online from my Femaledaily friend,
Mayang
. It's superlight, silky, easy to apply and sets my BB cream beautifully. This loose powder does not look chalky on my face (>ω<*)ノノ♥ I apply this loose powder using a brush, not the powder puff, to produces a smoother finish. It may seem expensive, but you're getting a lot product, 35grams! So I consider it cheap and worth to try.
Hate the packaging! ヽ(#`Д´)ノ The loose powder packaging is a mess and impossible to travel with! So what I did was purchase a sifter jar and transfered some powder into their ヘ( ̄ω ̄ヘ)(ノ ̄ω ̄)ノ
What I love about it:
- Light feeling on the skin
- Smooth and matt finish
- Easy to blend
- Doesn't cake up
- Not drying
What I hate about it:
- The packaging
Not much more to say except I love this powder ♡